Deep Sea
fishing charters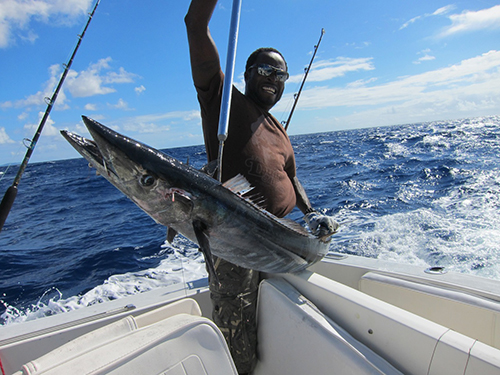 If you would like to sample some of the Caribbean's world famous saltwater fishing, while you are in Antigua, then you have come to the right place. Come fishing with Captain Leroy who has more than 20 years experience in these waters. He knows the very best spots for a wide variety of fish no matter what time of year.
Our deep sea fishing charters put you in pursuit of big game fish. You will fish for Wahoo, Mahi Mahi, King Fish, Tuna, Barracuda and more. When avid anglers drop lines in the water to fish they are sure to catch the experience of a lifetime. Normally fish such as Barracuda, Wahoo, Yellowfin Tuna and Blackfin Tuna and are available to catch year-round.
The scream of a tightly stretched line when a game fish strikes is a pulse racing experience. So, don't forget to bring your camera to catch the excitement on film. Take a look at our 'recent catch' fishing pics and you will know what to expect.
Included
•  Rods, bait and tackle provided.
•  Soft drinks and water included.
Rates
4 hours - US$550.00
6 hours - US$750.00
8 hours - US$900.00
Marlin Charter - US$1,100.00 (6am - 6pm tag & release)Maximum 6 persons, keeps the fishing tour small & friendly
Book online & save US$50.00!!